About Tactical Girls
Tactical Girls™ happened with the intersection of a professional photographer, a military history buff and the owner of a business specializing in legal NFA, Class III / Title 2 weapons.

A brief history of the Bikini Calendar
There were many others, but the Rigid Tools Pinup Calendar started in 1935 and had bikini models until 2016. As bikini models came on the scene after the first Sports Illustrated swimsuit edition, the Rigid Tools calendar was probably one of the first bikini calendars too. Calendars and posters with Bikini models and their pin-up predecessors have been used to showcase exotic cars, boats motorcycles and as promotional devices for the models themselves- Farrah Fawcett's iconic 1976 poster sold over 10 million copies! They were descendants of pin-up posters from WWII, when fighting men far from home decorated a tent wall or ship locker with a pin-up photo of Betty Grable or Rita Hayworth.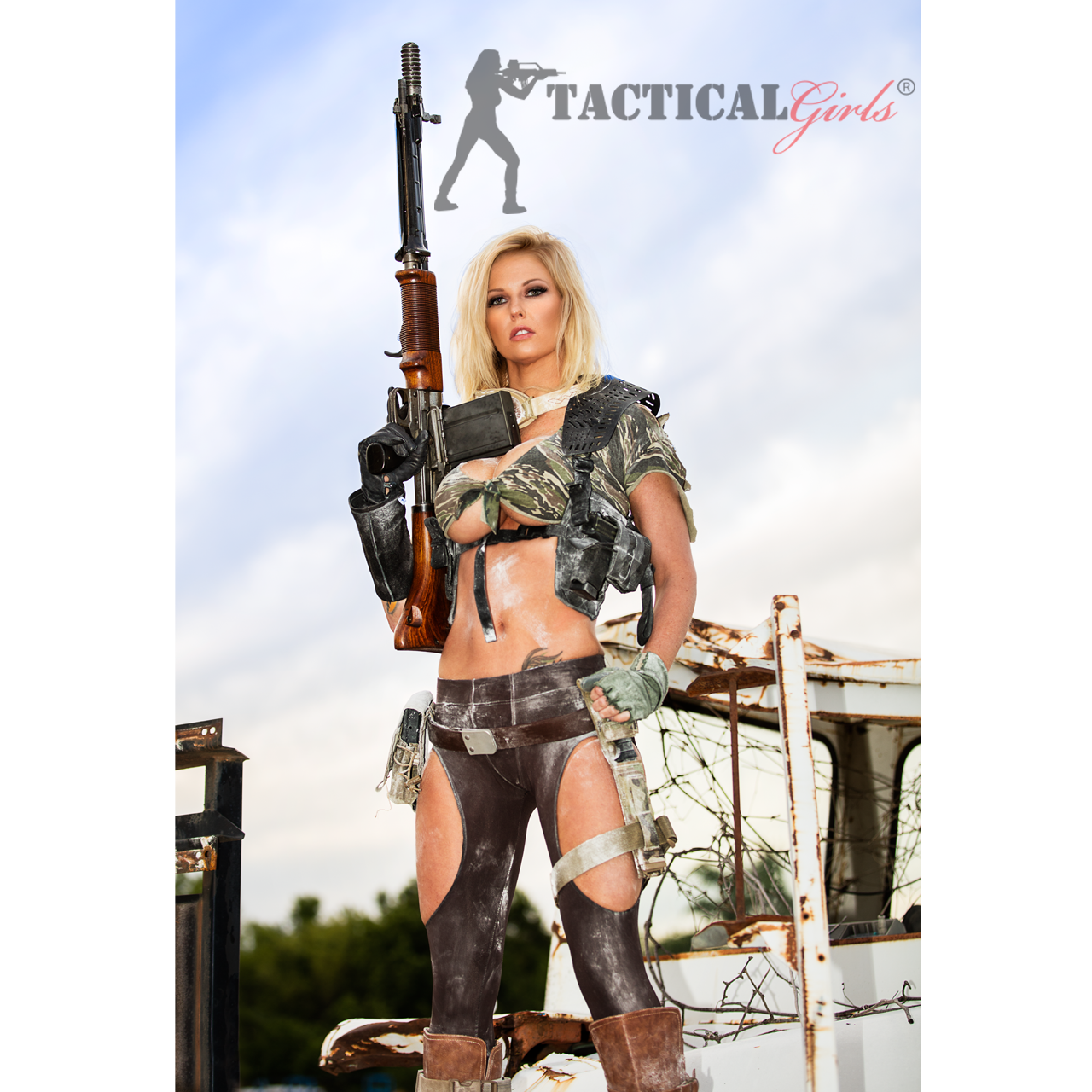 Bikini Calendars with Girls and Guns
The first successful pairing bikini of girls with guns in a calendar came from G Gordon Liddy in the 1990s. It was the Stacked and Packed Calendar, as a tie-in to the G Gordon Liddy Radio show. The calendar was a response to a sweeping trend of political correctness in America and gun-control measures by the Clinton administration. Perhaps for the first time, a bikini calendar was used to protest a social/academic movement. The Stacked and Packed Calendar, with its tie in to the Liddy Show did a fantastic job of promoting the idea being " Politically Incorrect ", specifically to highlight the implied censorship caused by the political-correctness movement. Stacked and Packed and Liddy so incensed the liberal left that a BoycottLiddyCalender.com website existed for a while.
Others, notably Dillon Precision, a manufacturer of excellent reloading equipment and Miniguns has used attractive models to showcase their Blue Press product catalogs. The Dillon Blue Press Calendar has been around for many years using the Blue Press catalog cover models. The Dillon Calendar, like the Rigid Tools calendar is a promotional tie-in for their main product rather than a stand-alone calendar.
The Tactical Girls Calendar
Hollywood and the video game industry caught on to the idea of a power female action hero. Wonder Woman was interesting, but Sarah Connor from the Terminator film was a heroine that could fight a remorseless machine from the future and win. Laura Croft was a video game character that came to life as movie character played by Angelina Jolie who was also unforgettable as Jane Smith in Mr. and Mrs. Smith. Quentin Tarantino took girls with guns (or swords and knives) to a whole new level with the Kill Bill movies. Charlize Theron in Mad Max: Fury Road and Atomic Blonde has made her mark on the genre in recent years. in 2019 Jennifer Garner continued her quest for female action roles with the movie Peppermint.
There was a time when the only people who knew that an HK MP5 was a submachine gun and not a German luxury car were Navy SEALs, members of hostage rescue teams and those who subscribed to Soldier of Fortune which was really the original tactical shooting magazine (SOF invented 3 gun, for example). However, in the last 20 years, the Internet has enabled a whole generation of gamers and movie viewers to research the equipment used in their favorite games and action films.
Rainbow 6 and Ghost Recon from Tom Clancy's Red Storm Entertainment and Half-Life ® Counter Strike ® from Valve Software, Doom, Far Cry and the Call of Duty series of games are highly realistic first person shooters. These video games have helped create a world of gamers that are fluent in the arms used in the games they play.

Last but certainly not least was arrival of the female action heroine in our movie theaters in the 1980s. Sigourney Weaver as Ripley in "Aliens" was resilient as they come. Demi Moore in "G.I. Jane". Lucy Liu is impressive in everything from "Kill Bill" to "Charlie's Angel's". Milla Jovovich as Alice in "Resident Evil" and Jennifer Garner as Sydney Bristow in "Alias". Angelina Jolie as Lara Croft, Mrs. Smith and Evelyn Salt has an action movie resume as strong as any of her male counterparts. Charlize Theron in Mad Max: Fury Road and Atomic Blonde has made her mark on the genre in recent years. These movies and TV series have made it clear that women could hold their own, kick ass and look outstanding doing it.
We determined early that our gun calendar could be a stand-alone product with help from product sponsorship, not a tie- in for a product line. This meant that we could take a creative direction that placed the focus on creating a top-shelf product with great art and photographs that was true to the idea of a cool, tough, beautiful action heroine, but also highlighted some extraordinary weapons in the same way that car and motorcycle calendars showcased exotic vehicles. A photo of a bikini girl with a Lamborghini is cool, but then the question what is the top speed of the car? We wanted to answer the same question about the guns in the calendar, so we committed to specifications and firearms trivia from the beginning.
Our Standards
Our content is PG-13 and we often show less skin than the cover of Cosmopolitan Magazine or the female contenders of the TV series Dancing with the Stars. The reasons for this are numerous, but one of the primary drivers is that we want to be sure our customers in deployed areas can display our calendar. The other reason is that due to our standards, we consistently attract great models who are also great people. Some of our models do it full time, others are have regular careers- accountants, sales executives, teachers and members of the military and law-enforcement.
Our models are great, but we hope that our customers, especially those in the Military and Law-Enforcement see that we have also have gone out of our way to try get the tactical part right. Small details like magazine indexing and finger discipline matter to us and to many of our fans. Over the years we have rejected some great images due to incorrect weapon handling.
Commitment to Giving Back
Our first year, we started something called the Major Mick Chang morale improvement program. Mick was commanding MiTT units training the Iraqi Police and Army in Northern Iraq. We donated calendars to him that he handed out to his men and used to build goodwill with his Iraqi counterparts. Mick had an M-14 and an experienced SF Sniper on his team, but no mount and no optics for the rifle. He did have a serious issue with an insurgent sniper in his area of operations though. We introduced him to AmericanSnipers.org and they sent him a mount and optics for the M-14. Soon after, Mick's insurgent sniper problem was alleviated. We have had great success working with Officers and Senior NCOs in creative ways to donate calendars. In 2010 an Air Force Airlift Squadron helped us place donated calendars into supply drop pallets that covered remote bases across Afghanistan.
We adopted AmericanSnipers.org as our non-profit of choice and they share our masthead as a demonstration of our commitment. We donate calendars for their care packages that end up in combat zones and they use the donated calendars for fund raising activities. We sent Erin Banks, our 2010 cover girl to the American Snipers booth at the 2010 SHOT show with donated calendars. That first year, Erin helped raise over $5,000 for the cause. We have consistently increased revenue to them since then and with sponsor assistance, we have continued to have Tactical Girls in Sponsor Booths at SHOT Show for the American Snipers fundraiser.
In 2009 we met Bruce Ranstad of Team Ranstad on AR15.com and started a tradition of donating calendars for their annual raffle fundraiser that raises funds for care packages that go to several front line units.
We now have a stated policy of donating 10% of our print run to organizations like AmericanSnipers.org or other registered non-profits that support those who stand on the walls we sleep soundly behind.
About our Weapons
We use only real weapons with real optics and other gear and for our photos set up the way they are used in the real world. No airsoft or imitation guns are used in our photo shoots; it is a gun calendar, not an airsoft calendar. We have great support from many firearms and equipment manufacturers and the benefit of the personal cell phone numbers of some great collectors and dealers. We also know some very patient former and present members of military and law enforcement who understand our commitment to getting it right.
Safety warning
Please do not try this at home. All of our photo shoots are in controlled environments and are closely managed by professional armorers with over 100 years of combined experience.

Best regards,
The Tactical Girls® Team